NICSN: Broadband by Satellite
For more information about NICSN, visit the project website: http://smart.knet.ca/satellite/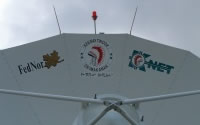 Fort Severn is part of the Northern Indigenous Community Satellite Network (NICSN). NICSN is a jointly-managed, inter-provincial partnership between First Nations and Inuit communities in northern Quebec, Ontario and Manitoba. NICSN has demonstrated that a satellite network can be locally and regionally owned, managed, operated and maintained.
NICSN is a partnership of three organizations: KO-K-Net in Ontario, the tribal council for Fort Severn First Nation; the Kativik Regional Government (KRG) in Quebec; and the Keewatin Tribal Council, which formed Broadband Communications North (BCN) in Manitoba. The three partners built a shared satellite-based network that serves their collective geographic region.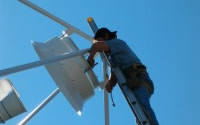 The NICSN network was built through two rounds of funding released by the National Satellite Initiative (NSI). In the first round, (starting in 2002) NSI allocated one Public Benefit Transponder to NICSN to provide service to public institutions in the 43 communities to be served. Building on an already-existing network operated by KO-K-Net, the additional transponder space allowed Manitoba (KTC-BCN) and Quebec (KRG) to join the network.
The group successfully secured bandwidth for 15 years (2005 – 2020), with 100 per cent of costs covered by the federal government (Industry Canada) and Telesat. In 2005, NICSN launched the first inter-provincial community-owned and operated broadband satellite network in Canada.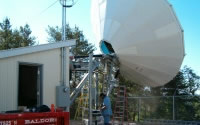 The NICSN network is managed from the hub earth station in Sioux Lookout, Ontario (which serves as the Internet gateway and network management centre). To enable local autonomy, each regional partner follows its own network model with technology standardized across the network. These demonstrated successes in achieving economies of scale, network efficiencies, and strong, long-term partnerships across geographic and jurisdictional boundaries make NICSN a sustainable network operation, as long as the government continues to recognize the satellite transponders as essential backbone infrastructure that must be funded.
Currently, many of the First Nations in Ontario on the NICSN network are included in the new fibre broadband build to First Nations in Northwestern Ontario. As communities receive their fibre connections, they will no longer need their NICSN satellite connection. Fort Severn, given its very remote location, will not be getting a fibre connection in the foreseeable future, so NICSN and satellite broadband will be very important for the community for many years to come.